In partnership with the Orange Public Library, our team holds an event each year called STEAM for Teens and Tweens that gives middle and high school students access to a fun and interactive program involving STEAM (Science, Technology, Engineering, Art, and Mathematics). This year, our team had to take a virtual approach in order to hold this event. We came up with 2 projects for the event: a propeller car that students could pick up at the library and keep to build and customize, and a software component using VEX VR that would introduce students to programming.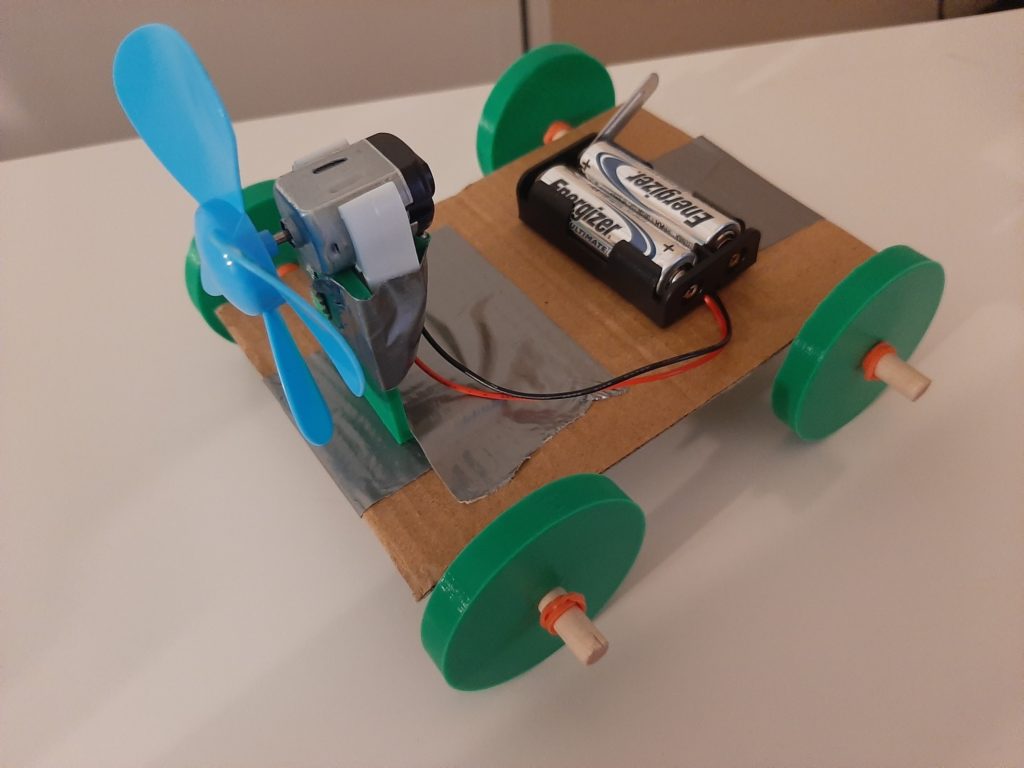 The propeller car is a simple car build our team discovered from research online. The car has a cardboard base with 4 wheels in the stock assembly, and moves with the power of a small DC hobby motor with a plastic propeller attached. In order to prepare the kits, our team purchased the supplies for the electronics, dowel rod shafts, propellers, and additional craft supplies such as popsicle sticks to allow the participants to customize beyond the stock build. Wheels and small supports to hold the motor were designed and 3D printed by our team members. Each motor was soldered together to a battery holder that contained a built-in switch to turn the car on. Supplies were then kitted and sent to the library so participants could pick them up for the activity. During the event, our team members walked through the stock car build and allowed students time to modify their car at the end. We used the cars to demonstrate scientific principles such as Newton's 3rd Law, and showed videos on how soldering and 3D printing were done to prepare the project.
For the VEX VR activity, students used block code to program a virtual VEX IQ robot to move on a grid map. Our team members walked through the basic logic of the programming, and went over a few of the introductory exercises to get the robot to move and turn. As the participants became more comfortable with the software later in the session, they transitioned to harder challenges, such as making the robot move through all the squares in the grid in order. Overall, students learned the basic logic of programming, which are essential skills to understand for computer science.
This past STEAM for Teens and Tweens event has been a very memorable and fun experience for all involved, and has led to support for another event this spring! Our team's preparation and collaboration for this event, despite not getting to interact with each other or the participants face to face, shows the power of our combined resilience and passion to the community. Our team is very appreciative of the Orange Public Library for allowing us to host this event, especially during the current circumstances. We are looking forward to this next event and hope to bring joy during these challenging times.
For more information about STEAM for Teens and Tweens events in the future, please visit www.oplfoundation.org/current-events–programs.html